Dental Implants – A New Confident You!
In a world where beauty and physical well-being are so pertinent in maintaining self-confidence, it's important to ensure your smile is at its best. Even one tooth missing, decayed, discolored or chipped, makes a difference on how you feel about yourself. This, and how others view you, can influence your love life, family relationships, career and overall health. And though research indicates that more people are keeping their teeth well into old age, accidents and dental disease happen. Dr. Pena Marro understands that people of all ages are affected in a positive way once they have replaced missing teeth with implants. Fortunately, for the first time, dental implants have reached near perfection in all ways, making them the first choice of millions of Americans.
A Reputation That Will Make You Smile
Dr. Pena Marro has earned the reputation as a leading expert in dental implantation within the Miami area. To date, Dr. Pena Marro has more than 392 satisfied dental implant patients who have come from as far away as New York City to obtain her services. There is a reason. She works with precision and demands perfection from herself and her staff.
Dr. Pena Marro understands the insecurities of her patients who walk in with missing teeth. Whether you have one tooth missing or many, Dr. Pena Marro and her staff will make sure you are treated with consideration and care. She also knows firsthand how dental implant therapy significantly improves the way people feel about themselves and has spent many years perfecting the finest techniques and determining the most durable dental implant products to ensure each patient is 100 percent happy. If there is a way Dr. Pena Marro can help you feel better about your smile, she will go the extra mile to make it happen.
The question is, do you believe the reputation of the practice you are considering for providing your dental implant treatment of utmost importance? If your answer is yes, you've come to the right place and we have hundreds of patients who will attest to this!
It All Starts with a Missing Tooth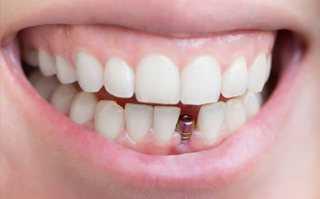 Let's face it. A missing tooth can ruin a pretty smile. A toothless gap between teeth can be annoying. But worse, there are oral health reasons why it's important to replace a missing tooth with a dental implant immediately. Procrastination can be devastating.
A lost tooth is not an isolated problem. In fact, it can cause a magnitude of issues that affect the entire mouth. This cause and effect should be of major concern as it can quickly result in a magnitude of unwanted problems.
A shrunken mouth
Once bone is lost from just one missing tooth, the remaining teeth are losing support by a weakened jaw. As a result, the remaining teeth must work harder to pull the bulk of the weight of the tooth structure and may begin to shift.
An increased chance of the jawbone shifting
A misaligned jaw may cause pain, including tenderness in or around the ear and jaw. Some experience a constant aching facial pain. Even worse, a misaligned jaw may cause Temporomandibular Joint Disorder (TMJD). In addition to being painful, this condition may also prevent your teeth from lasting as long as they should. Taking action immediately to replace the lost tooth is pertinent to avoid TMJD. 
Loss of self esteem
When you know you don't look and sound your best, it leads to a lack of confidence. Trouble eating and speaking clearly can cause embarrassment, which eventually could lead to depression.
Taking Action Equates to Prevention
The American Dental Association claims that upwards of 5 million implants are placed each year by U.S. dentists. Even so, the American College of Prosthodontists claim that a staggering 36 million Americans do not have any teeth and 120 million people in the U.S. are minus at least one tooth, with the number expected to increase in upcoming years.  
"Our goal is to ensure that our patients keep their natural teeth. But in the event that even one tooth needs replacing, it's our job to provide them with ample information so they can make a wise decision on the best treatment specific to their needs," said Pena Marro.
The sooner you replace missing teeth, the better your chances of not causing permanent damage. Let us help you keep your mouth in prime condition before lasting damage occurs.
To determine if you qualify for dental implants, Dr. Pena Marro will provide you with a comprehensive evaluation including making sure that you are free of periodontal disease, there is sufficient space for the implants, and you have enough bone support to solidly secure the implant and keep it in place. Call our office at (786) 847-0123 today and make an appointment to see if you are a candidate for dental implants.
Why Dental Implants?
Implants are the only tooth replacement therapy that appears completely natural. Dental implants are the insertion of artificial tooth roots, which the natural bone adheres to thereby serving as a permanent base for unmovable replacement teeth. The post that supports each dental implant is securely placed under the gums and no signs of a surgical procedure is apparent, making your new tooth look and feel as natural as any you have lost. A crown is then placed on top of the implant, which appears as beautiful as any natural tooth.
If you are interested in improving your smile through Dental Implants, schedule a consultation at Truedent Family Dentistry or call us at
(786)847-0123
.
The dental implants Dr. Pena Marro uses are made mainly from titanium along with other materials. While titanium is light in weight, it is one of the world's strongest metals. This in itself assures that the implant will not break or become loose.
"Titanium is compatible with the body making it ideal for dental implants among other body replacements such as knees and hips," said Dr. Pena Marro.
Biohorizon – Our Implant of Choice
There are many types of implants on the market, however, Biohorizon is the brand Dr. Pena Marro prefers. This is because it uses Laser-Lok surface treatment. Laser-Lok etches a series of precision-engineered, lasered miniature channels into the surface of the implant. It is the only surface treatment shown to attract a secure physical connective tissue attachment.
All-On-4Ò
If you are missing multiple teeth, Dr. Pena Marro may recommend you opt for our All-On-4 dental implants. This technique is designed specifically to place a minimum of four implants at once. The All-On-4 is meant for patients that have too much bone loss or low bone density, which prevents them from getting individual dental implants. It does not require bone grafting. What makes the All-On-4 a great option for many of our patients is that only four precisely placed dental implants on the top and bottom make for a beautiful full smile. That the All-On-4 is permanently fixed and prevents bone loss in the jaw, makes for a strong foundation to secure your new and original teeth. If you qualify for the All-On-4, Dr. Pena Marro will make it possible for you to go home with a great smile after only one visit.
The Many Advantages of the All-On-4Ò
Enjoy the many benefits of dental implant surgery without undergoing a bone graft
One session is all it takes to enjoy fully functional implanted dentures
Significantly faster recovery period than traditional dental implant surgeries
Permanent and secure fixtures. No slippage or flopping often experienced with traditional dentures
No more removable dentures or other appliances
Eat anything that's on the menu again
Enjoy normal speech
Easy cleaning
Why Our Patients Choose Implants Over Dentures
According to the American Dental Association, the development and use of implants is one of the biggest advances in dentistry in the past 40 years. Whether you already have dentures or bridges, you still may be an excellent candidate for dental implant treatments. In fact, Truedent Family Dentistry of Miami has hundreds of bridge and denture wearers that made the switch and are glad they did. By eliminating dentures and bridges, taking care of their teeth is easier and they feel more confident. They all celebrate the freedom and security that comes with permanent implants.
Dentures vs Implants
Implants are permanent and secure, whereas dentures are removable. They may be easily become lost, misplaced or broken. 
You will clean your implants the same way as natural teeth. Dentures require a nightly cleaning regime that includes removing and soaking in specially formulated and often expensive solutions.
Implants provide protection from bone loss. Dentures invite bone deterioration causing the jawline to become misaligned.
Implants provide freedom from the discomfort of dentures.
Because implants are secure much like natural teeth, they don't shift or slip. This gives our patients more confidence to eat what they want.
Patients love saying goodbye to embarrassing clicking sounds. Our dental implant patients speak clearly and smile freely, knowing their teeth are securely in place.
Cross the Bridge into the World of Implants
Candidates who are eligible for bridges need healthy adjacent teeth for support. Implants do not require the support of other teeth.
Implants may be used to replace more than one missing natural tooth, whereas a bridge typically is designed to replace several teeth.
Implants are permanent, while bridges will need to be replaced every 10 to 15 years. Many of our patients also said they find implants much more comfortable than bridges.
Implants Will Save You Money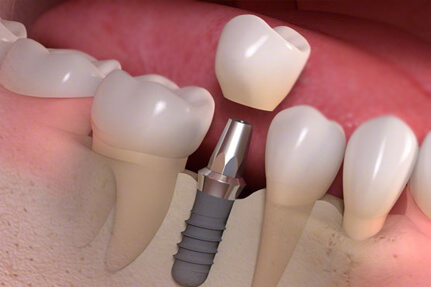 While implants may cost more at the beginning, over time, investing in them can save you significant amounts of money. Here's why. Missing teeth often leads to serious oral problems including the loss of surrounding teeth, shifting teeth and jawbones, bone deterioration and other issues that need to be addressed and are extremely costly. The trend we are seeing in our office is, people are replacing dentures and bridges with dental implants. The reason is simple: dental implants look better and are permanent.
If you have a missing tooth, want to replace your dentures or bridges with implants or simply want to discuss your options with our dental implant specialist, Dr. Pena Marro, please call us at (786) 847-0123 and schedule an appointment.
What's Trending
Same-day dental implants are quickly becoming progressively popular because most don't want to wait for up to six months to allow the initial implant to fully heal before placing their crowns. As technology advances and Dr. Pena Marro has become increasingly skilled with implant strategies, more patients qualify for one-day surgeries.
Factors that Affect the Cost of Dental Implants
Every patient has different set of requirements. You may not qualify for the one-session implant process as bone grafting may be necessary. Or, you may need other restorative work to restore your bone structure. In either case, this pre-dental implant work would need to be completed before Dr. Pena Marro can begin the implant process.
What Determines the Cost
Same-Day Implants
Dental implants are surgically placed in the jawbone and an abutment is extended through the gum to allow easy placement of the crown after the gums heal. We offer one-day implants, however, you must have good bone structure and healthy gums to provide for an environment that allows placement of the crowns immediately upon placing the implants. Same-day implants are the first choice of many of our patients.
Two-Stage Implants
Sometimes a two-stage implant process is required when a patient does not have adequate bone structure to fully support the implants immediately. In this case, we will surgically place the implants into the jawbone. They are covered by gum tissue while healing. During the six-month waiting period, bone mass collects around the implant to create a stronger support for the crowns. In the second stage, we will uncover the implant and load the crown.
Bone Grafting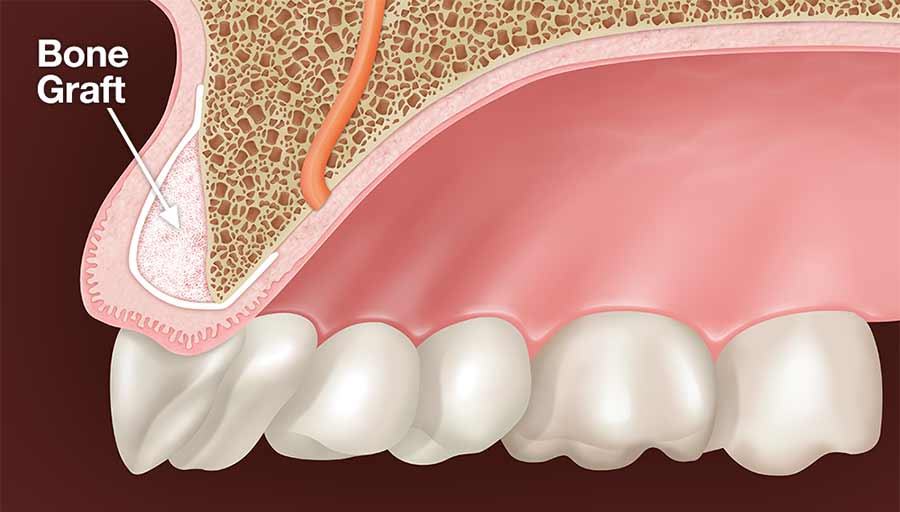 If you allow for teeth to go missing for any length of time, you will gradually lose bone density in the jaw. This bone is naturally designed to support the teeth. For our patients that want dental implants, but don't have adequate bone structure, there is still hope. We simply surgically graft bone that is donated for this purpose.
This additional step requires surgery, and therefore naturally increases the overall cost of dental implants. Dr. Pena Marro will do a thorough exam to determine what is the best route for you to take. Please keep in mind, that missing or decayed teeth cause bone loss so the longer you wait to replace a missing tooth or teeth, the less bone you may have for Dr. Pena Marro to use as support.
Guided Tissue Regeneration
A good alternative to bone grafting is Guided Tissue Regeneration. Gum or periodontal disease causes bone loss surrounding the teeth. This increases the chances of losing that tooth. Eventually the jawbone that once supported that tooth disappears. This may result in discomfort for denture wearers. Insufficient bone may also render placing dental implants impossible. To remedy this situation and make dental implants possible for all our patients, Truedent Family Dentistry uses advanced techniques to regrow lost bone and provide the needed support for dental implants in a treatment known as Guided Tissue Regeneration. The best part is, this treatment may not require bone removal from other parts of the body, but instead, uses membrane barriers, bioactive growth factor gels or tissue stimulating proteins so the bone can grow in a more natural way.
The benefits of Guided Tissue Regeneration (GTR) are many:
Prompts the body to regenerate lost bone
Increases the prospect of you keeping your natural teeth
Significantly decreases, if not eliminates, the likelihood of serious health problems associated with the existing gum disease
Saves failing bridges and/or implants
Makes for an aesthetically pleasing implant foundation
How Many Implants?

The more implants you need, the higher the cost.
Pre-Surgery Testing

Testing is sometimes required to give Dr. Pena Marro a comprehensive view of the jaw and bite. This allows her to place the implants with precision. The types and amounts of testing required for your surgery is dependent upon your personal needs and the preferences or procedures she recommends.
Position of the Implant

Endosteal dental implants are implanted into the jawbone. While direct placement in the jawbone creates a stronger support for the crowns, not all patients have the bone structure to support that type of dental implant. The alternative is subperiosteal implants, which are placed in the gum tissue above the jawbone.
What's the Downtime?

It generally takes approximately 30 minutes to place a single implant. Most of the time, you will be able to eat the same day. However, if we are placing multiple implants, you can expect it to take longer. Once the anesthetic dissipates and the numbness wears off, you will most likely feel some pain and discomfort for a short period. After 4-6 months, you should be completely healed. Then all you need to do is show off your new smile with confidence.
Our Dental Implant Patients Share the Love
"I never realized how I unconsciously worried about whether my dentures would stay in place or flip around until I made the switch to implants. Now I remember the freedom I felt when I had my original teeth."
Steve Morales
Accountant – Miami, Florida
"I spent years trying to decide if I wanted to spend the money on replacing my dentures with implants. The only thing I regret is not doing it sooner."
                                                                                                Mary Thompson
                                                                                                Teacher – Miami, Florida
"When my son broke his tooth in half from a bad fall on his bike, we decided to get him an implant. It was an easy decision because we didn't want him to experience any embarrassing moments where other kids could make fun of him. It just made sense."
                                                                                                Mr. and Mrs. Ethers
                                                                                                Parents – Miami, Florida
"I was told that a lack of fluoride in the drinking water is what caused my teeth to stay small. All my life, I was embarrassed to smile. When I got my first 'real paying' job after college, I decided to get implants. I never looked back. It was a life changer."
                                                                                                Jennifer Tyler
                                                                                                Architect – Miami, Florida


Financing
Truedent Family Dentistry offers financing of up to 36 months zero interest or seven years with low-interest payments.
Alejandra Ramirez
Would definitely recommend to anyone! The people who work here are so friendly and make you feel as comfortable as they can. Very professional, and they have great deals!! It's also a fairly new office and it's so lovely in there, very clean all the time.